Estimated reading time: 6 minutes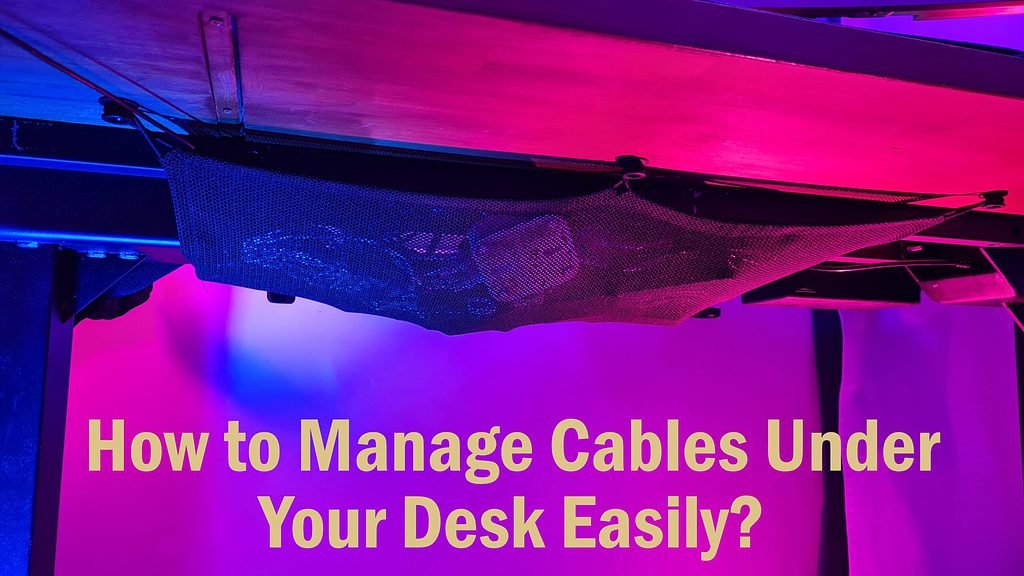 Does Your Cable Management Look Like This? What If I told you that there is an Easy Solution to Fix This?
Webber, Desk Cable Management – All Your Cables, Neat and Tidy
The most important and the backbone of the setup is the furniture in the room where it is installed. That should be the first thing you think of when you start building a setup. The setup should be designed to be as ergonomic as possible for use. The most common assumption from the setup is that it provides the player with an ideal environment for gaming. And cable management is a big part of it.
First, you plug in a laptop, and it doesn't seem like much. At least, it doesn't seem too messy or out of order.
Then, you add a monitor. A gaming computer, a TV, a console: it all becomes too much very quickly. Before you know it, your entire workspace is a mess. You wonder to yourself if it was always that way – or when it got to be that way. Most frustratingly, there doesn't seem to be any simple solution. As much as you want to keep your workspace neat and tidy, it's not immediately clear how you can do that.
This is where Webber adjustable PC setup cable management web comes into the picture.
Our Passion is Tidy and Neat Setups!
Our passion has always been hidden in elegance and simplicity. We wanted to launch a product that emphasizes these features. Emphasizes what we want to make visible and what we don't.
So this will be our first product, but it surely isn't going to be our last. We intend to work closely with our customers to bring products to markets that take advantage of these features. We value innovation, excellence, and passion, all to serve our customers well.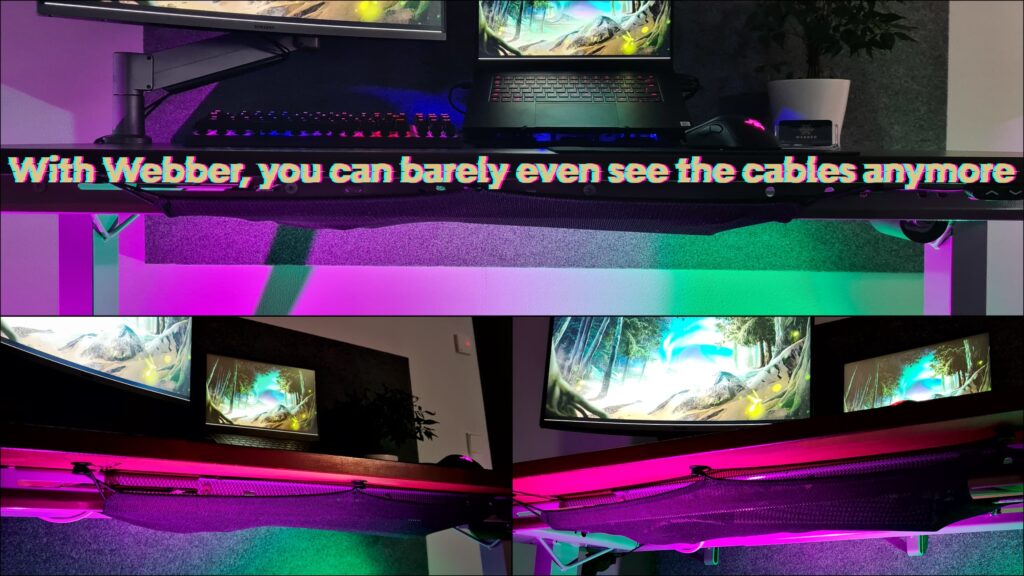 With Webber, show what you want to be shown and enhance your setup as you want, be your own master!
Something more about our product – Manage Your Cables Easily Under Your Desk
So we have launched a product on the market that will be used to manage or organize cables, power supplies, chargers, or other wired electronic accessories.
Using Webber, you can keep all of your cables out of sight and out of mind, finally focusing on the task (or the video game) that's in front of you.
Setting Webber up takes no time at all. You get to choose to attach Webber to a surface via either four or six hooks. Then, it stays in place all on its own. Thanks to Webber's adjustability even uneven surfaces are not a problem.
You can also adjust the tension of the Webber cable management web yourself, depending on the load and the number of cables on the web. Our pending patented technology guarantees the best possible result.
Included in Webber are all of the hardware pieces you need, including screws, plastic brackets, an elastic band stopper, a cable web with an elastic band, a cable velcro strap, and a universal Torx 20 tip.
Instruction Manuals
If you want to see how the product works, press the button below and download the product manuals.
What equipment do I need to install the Webber Desk Cable Management Web?
– A pen that you can use to mark where you screw the plastic brackets to attach the product.
– Screwdriver or power drill with which you screw the screws to the mounting surface.
Can I reinstall or change the mounting location of the brackets if necessary?
– Yes, the product is designed for this purpose as well. So that you can easily reinstall the product or change the installation location as needed.
What if the screws that come with the product are longer than the thickness of my desk surface?
– No worries! If you wish, you can also install the product on the mounting surface with your own screws. (However, the screw should be screwed into the surface to be installed to a depth of at least 1cm) (0.4 inches)
The World-Class Accessory You Need
Sourcing durable and high-quality materials, we have crafted Webber in Finland, guaranteeing that it is going to withstand forceful and long-term use. The most exciting aspect of Webber is, of course, the convenience that it affords you. At any time, you can add or remove cables, choosing which ones you are going to put away and which ones you are going to put out.
Plug in something new. Toss out something old. The option is yours when you choose Webber, which is here to make your workspace less stressful and more orderly.
We have designed Webber with a stylish and minimalist sensibility, choosing colors that will fit any environment. Whether you are setting up a work-from-home office or organizing your gaming room, you can count on Webber to blend in well –while also standing out for its clever function. We are Webber, I hope we can help with your cable management.
If you ever need to re-install Webber, that process is easy as well. The keyword here is "freedom," and you get plenty of that from Webber.
Webber makes it easy to clean up your workspace
Manage your cables easily – Easy to add, or remove cables from the web.
Reinforced elastic band output holes help the product endure the burden of the web itself.
Crafted in Finland from durable top materials.
Webber cable web is easy to install and also reinstallable.
Strong elastic fabric allows the product to adjust on different surfaces and withstand even heavier loads.
Our adjustable elastic band allows us to install the mounting of the product on uneven installation surfaces.
Stylish minimal design to suit every setup, office, or interior style.
Cables won't rest on the floor anymore and it will make life much easier.
Our pending patented technology allows easy installation of various surfaces thanks to its adjustability.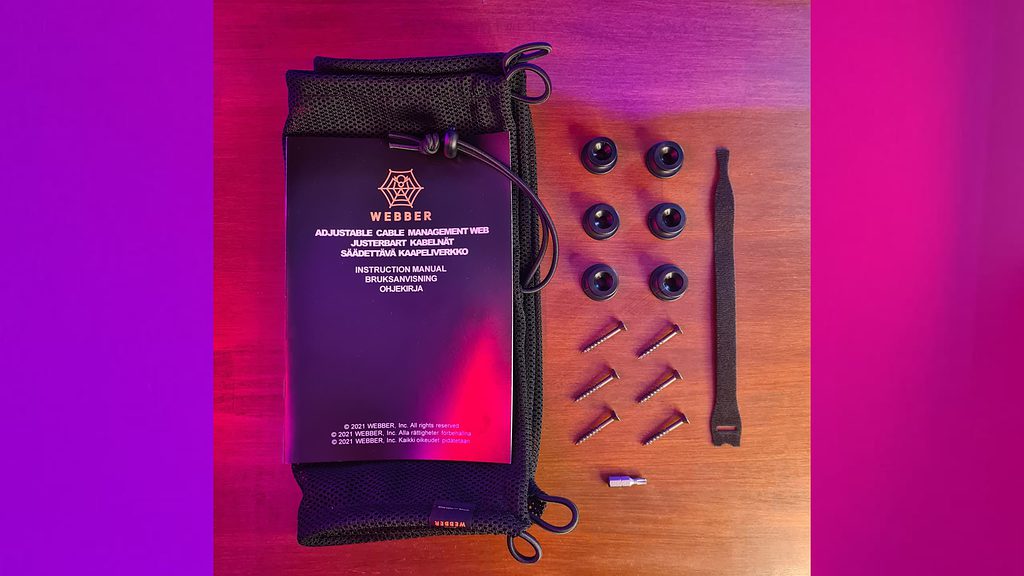 ---
Links