Estimated reading time: 8 minutes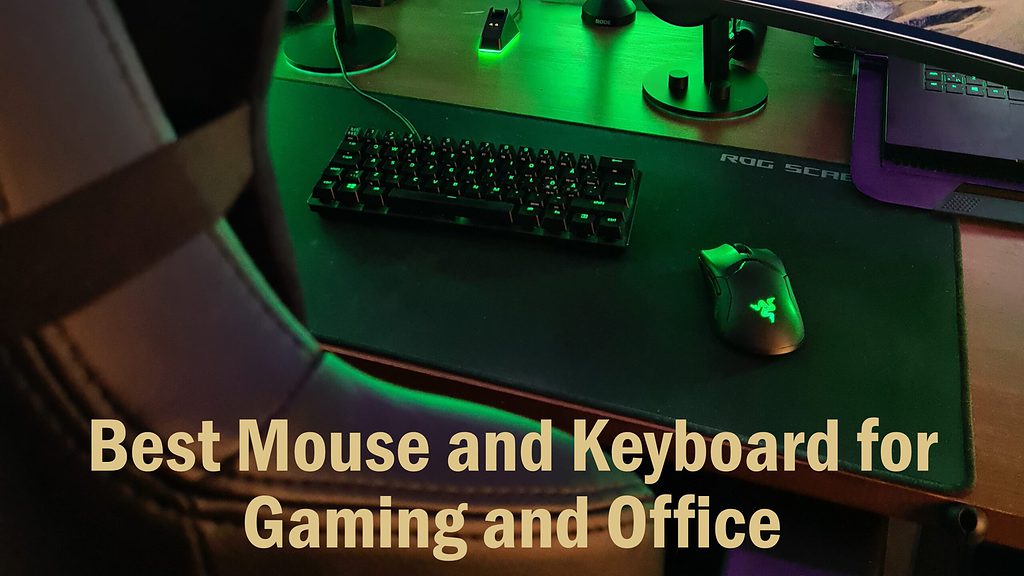 Best Mouse and Keyboard for Gaming and Office – Razer
Best mouse and keyboard for gaming and office use? One word, Razer. Why? Let me tell you why Razer products, were selected as the best products for both gaming and office use. Simply the quality of the Razer product is already noticeable in the product packaging. Not to mention the quality of the products themselves.
I have been using Razer's mouse and keyboard for gaming for over a decade, and the only reason I have upgraded my mouse or keyboard is not that they have broken. The reason is that Razer has always been pushing the market with better and better products with new features and stylish looks. Razer spends large sums to remain one of the market leaders and produce high-quality and even better products than its competitors. And I have to make clear that I have used a lot of other brands' gaming gear, but you know what they say. Once you go Razer you never go back.
Almost if not every current Razer product supports the Razer Chroma RGB app. At least every product featured on this blog supports the Razer Chroma RGB App. And that is always certainly a bonus in my books.
Razer is a lifesaver in many situations, literally …
Best Gaming Gear in 2023 from Razer!
Razer Gaming Mouse – Razer Viper Ultimate
Viper Ultimate is the best gaming mouse of 2021. Every mouse grip is suited well with this mouse, palm, claw, and fingertip. I myself have a big hand and long fingers. The mouse looks very small, but still, for some reason, it is just the right size even though it is small.
The Razer Viper Ultimate is a little expensive but worth every euro. The mice cost 169.99€ in Razer's online store. However, the mouse is occasionally at a good discount at Amazon and local electronics stores for up to half the price.
And the Razer mouse has an amazing 70 hours of battery life. In its own use, it has sometimes lasted even longer, of course, it hasn't lasted quite 70 hours of gaming. The only downside here is that the cool charging dock will be used very rarely. The mouse has two additional keys on each side of the mouse.
Razer's improved sensor has an industry-leading 20,000 DPI with 99.6% resolution accuracy and with insanely high 650 IPS tracking speed. Razer has 25% faster technology than any other wireless technology available. The Razer mouse has an inhumane response time of 0.2 milliseconds. Just like this kind of speed is needed…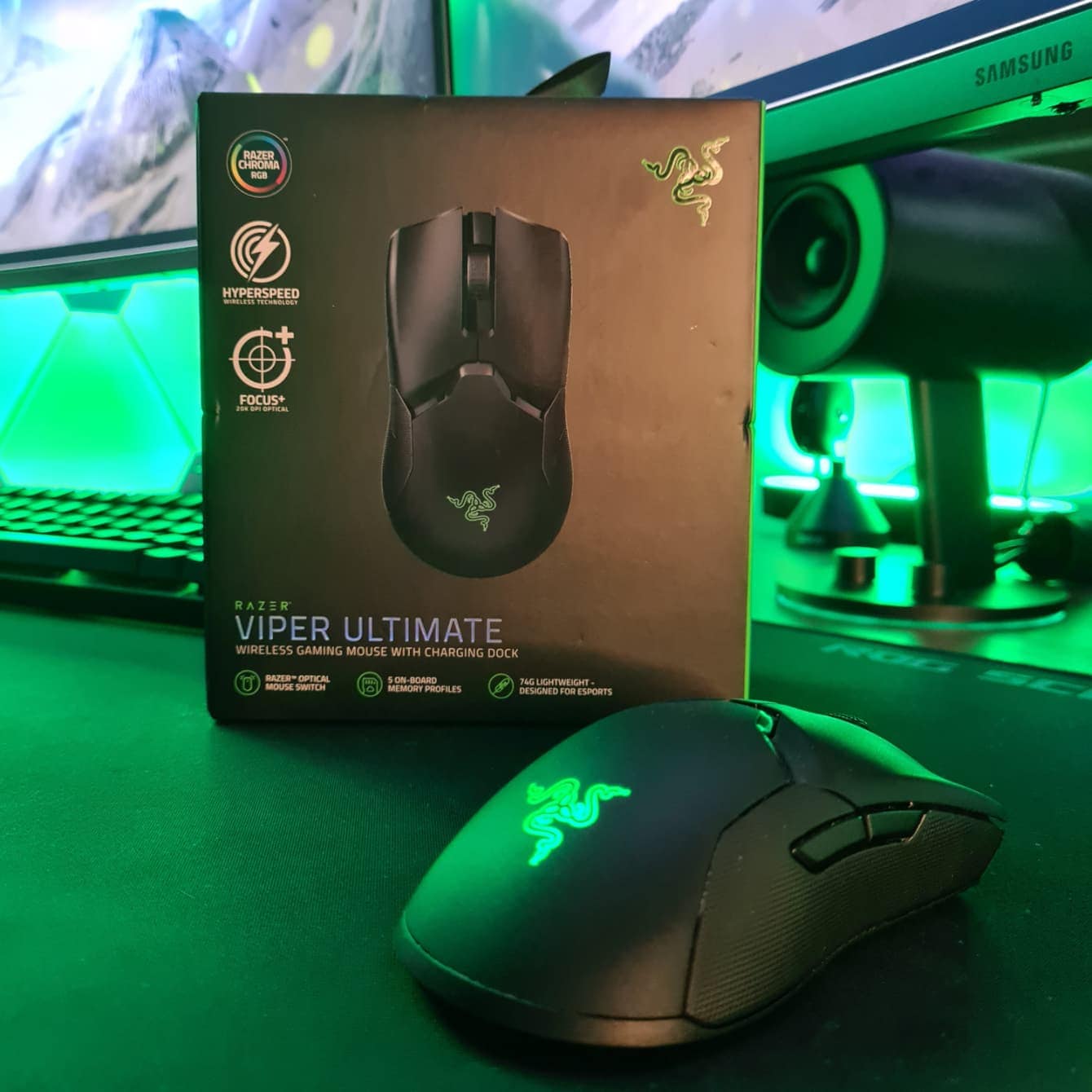 Razer Gaming Keyboard – Razer Huntsman Mini
The Razer Huntsman mini is certainly the best value and bang for your buck option on the market of any 60% keyboards. Personally, I would even dare say that after using a Razer Huntsman keyboard, you don't even have to think about buying "better". Can it be any better than this?
I love the feel of the keyboard! When playing, fatal fate may result in a keyboard that has not any feeling or counterpressure when you press a key. However, this is not the case with the Razer Huntsman mini. The keypress is buttery smooth with just the right amount of force. The keys are clicky just the perfect amount and the sound is smooth as #$@&%*! and not bothering you or anyone else in the same household. (At least I have not got any complaints). Nothing can be more annoying than a flick of a keyboard echoing throughout the house.
As I said the Razer Huntsman mini is the best bang for your buck. The keyboard cost 139,99€ in Razer's online store. However, the keyboard is occasionally at a good discount at Amazon and local electronics stores for up to half the price.
Here's the best mouse and keyboard for gaming, how stylish and just the right size it is. It should also be mentioned that the Razer Viper Ultimate is a very small mouse. So the ratio is about 1/4 compared to the size of the mouse on the keyboard.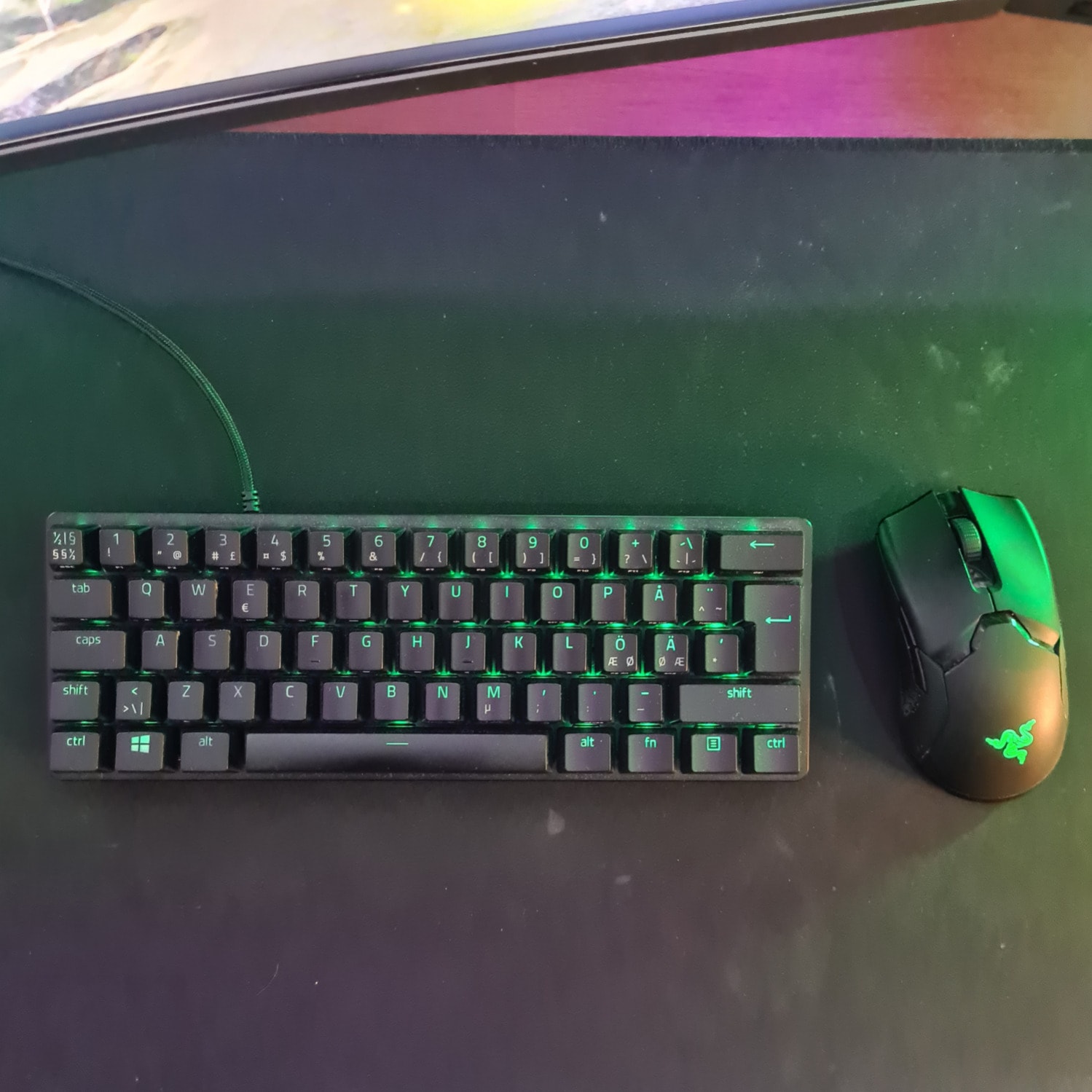 Razer Optica Switches
Doubleshot PBT keycaps with side-printed secondary functions.
Onboard memory
Lightning presets
Aluminum construction
Best Office gear from Razer 2023!
Razer Office Mouse – Razer DeathAdder V2
Razer has sold over 10 million units of Deathadder mouse. So there are some other ones that like this mouse also. That said you can not go wrong on this one. Razer Deathadder V2 is the real deal! In the office, the mouse doesn't have to be wireless, I think it's even better when it's not wireless. Then you don't have to worry about running out of battery power during an important job or task.
The mouse should be big enough if you could describe it. In-office use, the most common hand positioning is probably the hand being in the position of the claw or palm in the mouse. Therefore, it is important that the mouse is large enough to be able to hold the hand in these positions for long periods of time.
The Razer Deathadder is an affordable mouse that costs 79,99€ in Razer's online store. However as mentioned before, the mouse is occasionally at a good discount at Amazon and local electronics stores for up to half the price.
Ergonomics Without Equal
Best-in-class ergonomics
Optical mouse switch
Speedflex and strong cable for a long lifespan
Instinctive scroll wheel tactility
Razer Office Keyboard – Razer Blackwidow V3 Tenkeyless
The office keyboard cannot be too big or too small. With the office keyboard, you should be able to type long and easily. Additional function keys should be within easy reach.
And not as awkwardly accessible as usually on 60% keyboards they are behind the macro keys.
And in Razer Blackwidow V3 Tenkeyless the Numpad keys are just the way they should be. The keyboard is comfortable to work with for long periods of time and the keyboard does not require too much force to register the keyboard press which is always a good thing when typing a lot.
The Razer Blackwidow V3 tenkeyless is a very affordable but high-quality keyboard. If we are talking about an office-purpose keyboard then you don't need better than this! One could even say that this is a bit of an exaggeration for an office keyboard, but if you use the keyboard for tens of hours a week at work, then it's totally worth it. The keyboard cost 109,99€ in Razer's online store. However like before, the keyboard is occasionally at a good discount at Amazon and local electronics stores for up to half the price.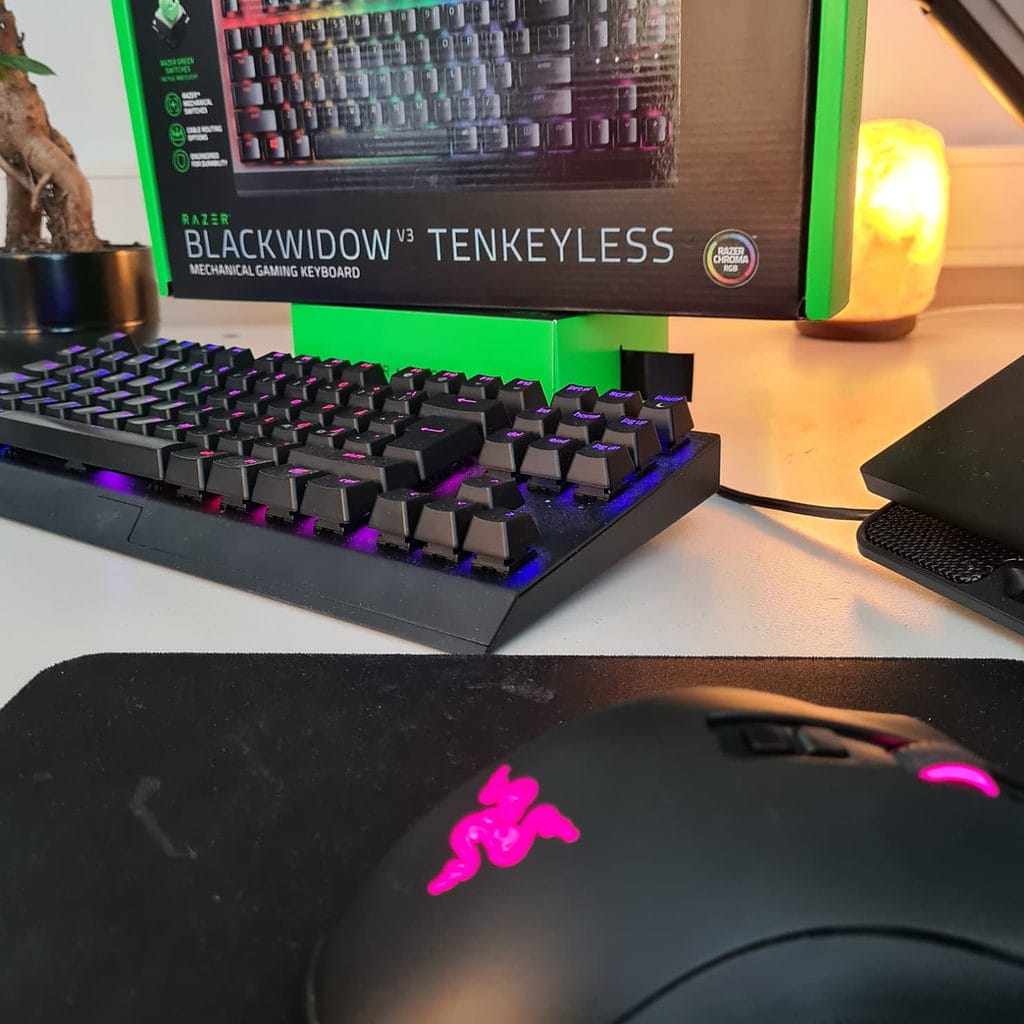 Razer Mechanical Switches
Aluminum construction
80 million keystroke lifespan
The options are limitless with Razer when it comes up to choosing the right gear to game or doing your job at the office! The best mouse and keyboard for gaming and office use brand is Razer.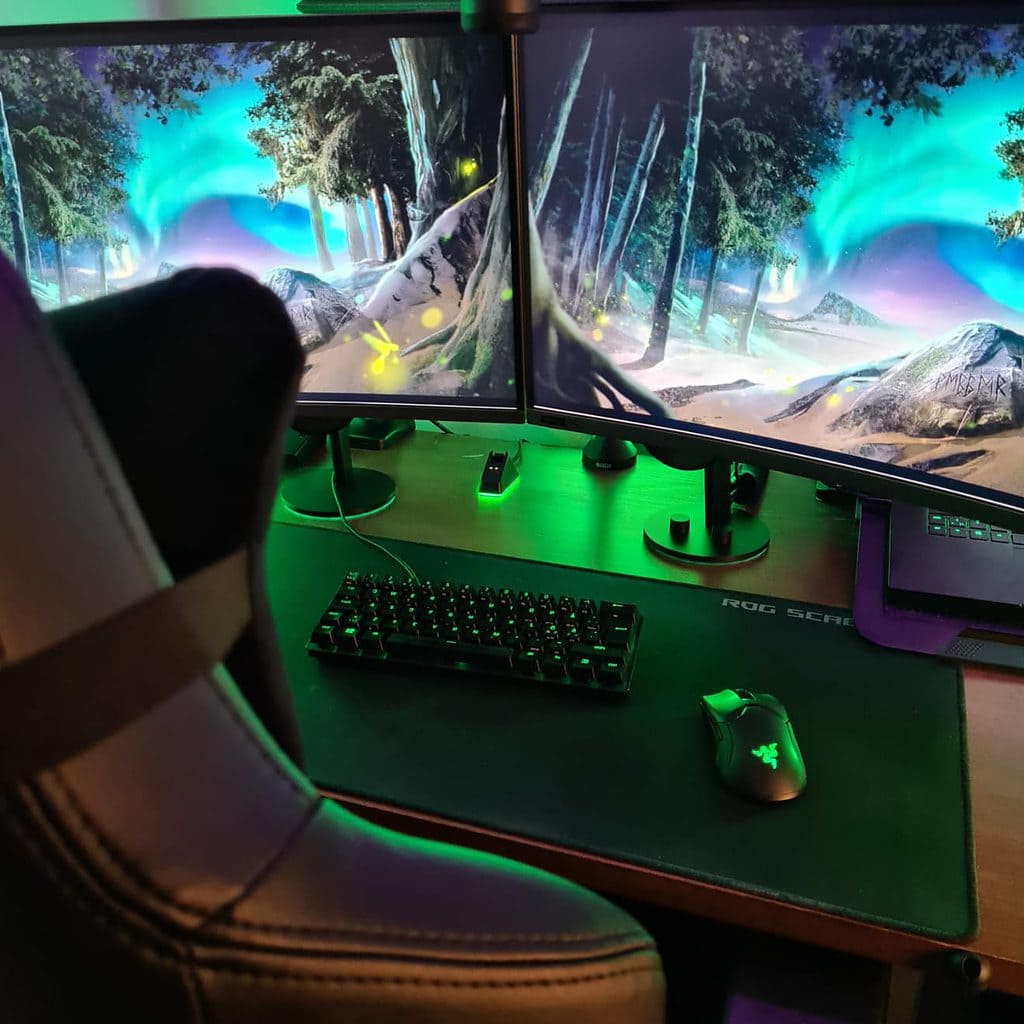 Razer Viper Pro mouse with Razer Huntsman mini keyboard with a complete gaming setup and a Complete clean and tidy office setup with Razer gear
Pssst … If you need help with cable management in addition to the office or game room keyboards and mouse we can help.
---
Links